Written 2 years ago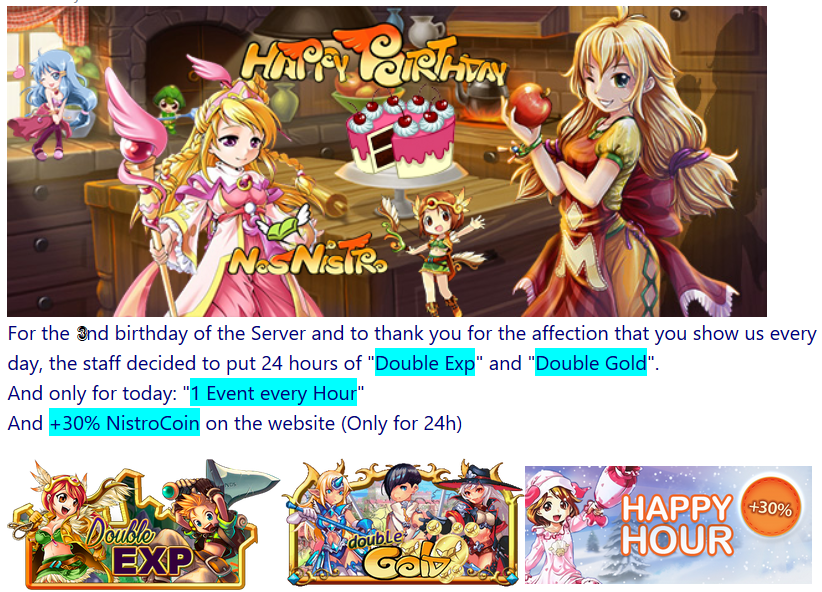 ---
Happy Birthday NosNistro
Written 2 years ago
To make me forgive that in these days I have done a few events ...
The end of the "Happy Birthday NosNistro" event will be postponed to tomorrow.
So it will last 24 hours longer.
EXP X2 GOLD X2 30% NISTROCOIN BONUS
---
Written 2 years ago

After many hours of work is ready!
If you log in every day in our website and visit this page you can get a random fantastic prize!
Prizes are given randomly from the list. Your prize will get better and better if you log in every day.
If you forgot to visit this page one day, you'll restart from the first prize pack.
You will get one random prize from the box highlighted with green color.
---
Written 2 years ago

-Now the max Slot is 9999!
-Now u can use all perfection in 2 seconds!
-Now the Cupid Arrow is disponible in ItemShop (Marry ur Partner for 750NistroCoin)
Price lowered!
---
Summer Event
Written 2 years ago
Summer has now arrived and even here in the world of NosNistro it's time to celebrate.
Engage with your team in the summer raid, defeat the Bad Captain and find fantastic items.
Find your Pirate SP. Good luck and Happy Holidays.
REMEMBER: YOU CAN USE ONLY 2 CHARACTER IN EVENT!!! OR GET BAN!!!